Experience with Dr Nilssen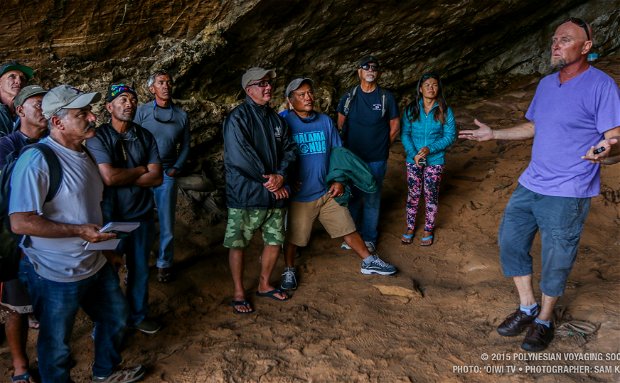 This is a rare opportunity to visit a famous Middle Stone Age archaeological site in the company of the archaeologist who made the discovery in 1997 and who introduced the sites to scientific research that began in 2000 under his and Dr Curtis Marean's directorship.
Please note that ALL tours and cave visits by appointment only. The sites are not open to the public.
There are two tour options with Dr. Nilssen
Point of Human Origins Experience (this is a full tour including two parts described below)
Cave Visit.  
PLEASE NOTE: Tours must be booked in advance and depend on Dr. Nilssen's availability (due to professional commitments he is not always available). To run the full tour, we prefer a group of not less than 8 people. If a group of 8 or more people cannot be arranged, then a private tour or cave visit can be booked with Dr Nilssen. 
The full tour is divided into two parts:
1st part - an introductory, thought provoking PowerPoint presentation by Dr Nilssen that will take you on a journey into pre-history where you learn about human nature and behavior, ancient environments, sea levels, food sources, cave formation processes, stone tool technology, and how our earliest ancestors managed to survive a near extinction event through their connection with and reliance on nature.
2nd part – scenic visit to the caves at Pinnacle Point in the company of Dr Nilssen. The only access to Cave 13B is via a series of steep wooden stairways and boardwalks (some 200 stairs in each direction). The climb back up can be taxing unless you're mildly fit.
The full tour is usually between 3 to 4 hours in duration while the cave visit is usually 2 hours.
Your contribution: 
A portion of each person's  entry fee goes into a conservation fund for protecting and conserving the sites that we visit. So every visitor is personally involved in the conservation of humanity's heritage at Pinnacle Point. 
At your expense, food and beverages are available at the Pinnacle Point Club House Restaurant.
TripAdvisor Reviews

Visit with Dr Peter Nilssen
Spent 2 hours or so with Dr Nilssen whilst visiting the cave under Pinnacle Point Golf club. Very informative and thought provoking tour. Dr Nilssen is passionate about his specialty and an excellent communicator.Learned a fair bit about the local geology, history of the area and how middle Stone Age man made tools to hunt and survive.
A steep walk down to the cave and back up but made worthwhile by the views and the excellent discussions.
Definitely recommend if you have any interest in the history of mankind.
Point of Human Origin
We spent 2.5 hours with Peter, who shared his knowledge and passion for this remarkable site. It is an engrossing tour from start to finish. We left feeling inspired and grateful for the experience- hard to think of any way to spend a better 2.5 hours in SA. A must for anyone curious about the history of mankind.
A fantastic and educational experience.
This is a must for everyone. We were lucky to be guided by Dr. Peter Nilssen. First an interesting theoretical explanation and then a beautiful walk down to the caves.
Beautiful day with Dr. Nilssen
We had a wonderful day in Mossel Bay. Dr. Nilssen is extremely knowledgeable and passionate about what he does and knows more about the Middle Stone Age than just about anyone! The tour started out with a power point presentation that was actually very interesting (I chose this excursion for my husband who loves history of all types). Then we made our way (by car) to Pinnacle Point to walk down to see the cave. It is absolutely beautiful, but be forewarned - there are A LOT of steps going down and what goes down must come up.
Fantastic experience
I was on the full tour, hosted by Dr. Peter Nilssen, the discoverer of the cave we visited. His enthusiasm for archaeology was inspiring. His vast knowledge - and ability to share it in such an understandable manner - made it a fantastic experience. Highlight of my recent trip to Sough Africa.
Point of Human Origins, Pinnacle Point, Mossel Bay (SA) is a must-see
For all curious minds .. be it a Nature lover, a friend of science or of humanity, culture over all .. a visit to Point of Human Origins is an unforgettable time travel into ourselves, our history and origin.
Lucky to visit Pinnacle Point on a misty day in December, 2018.
Due scheduling constraints, made a solo appointment for 
a lecture and the cave visit. Guided by Dr. Peter Nilssen.
I recall the 3-4 hour progam (lecture+cave visit) eventually turned into a
5-6 hour thoroughful consideration of survival/success options of the early humans as well as descendants today: us. 
It is vital to have a fully charged phone! (to keep connected, these modern times).
In addition a good quality camera, fully charged, too. 
Normal outdoor shoes (stairs, lawns, rocky paths), clothing for mild coastal weather.
I would recommend adding some hours walk (the auxiliary program) on the coast sites, to digest all the aspects of the time trip. Pinnacle Point is worth a full day visit (+stay overnight, in a relaxed plan) - given the distance to CPT etc.
So much new information have emerged in recent years, decades, about early humans, thanks to careful and dedicated research. It truly deserves to be communicated to the general public, in order to put us (the contemporary time/world) in the right, proper context on our unique planet. 
One may study these topics in news, journals, books. However it's nothing compared to picking up a real stone axe, feel its weight, check the pieces of stone used as tools to make them. See how all that has evolved, at the actual site. The observation the layout of the caves, seeing their location now versus the days when our ancestors lived there.. How all that has been preserved for our viewing, thanks to a few lucky coincidences Nature may arrange for. One can't imagine it without being there, looking into it, seeing and inspecting the details. 
My respect and thanks to the team at Pinnacle Point, Yuli, Peter and their colleagues (Christopher) for the longstanding effort to create this site, to maintain it and to make it accessible to us all. 
My vist was a very nice arrangement, exciting one (given the distances, schedules), well co-ordinated and prepared. The associated program (dedicated lecture) was professional. Look: it's a world class expert, devoted his lifetime to this site. Team effort spanning decades, modern technology, multi-disciplinary research that has enabled all this. Unique stuff.
Please, turn around and take a visit to our home, one day.